01. NEW RELEASES IN SEPTEMBER 2016
We are happy to announce the following LIVE Double CD:
"TANGERINE DREAM - LIVE AT THE PHILHARMONY SZCZECIN-POLAND 2016"
Please get more details from our EASTGATE shop:
https://www.ssl-id.de/edgarfroese.de/shop/products.php?p=c62ac4
Release date: 02 Sep, Shipment: 5 Sep 2016
Finally we are also very happy to release the live concert "STARMUS - SONIC UNIVERSE - LIVE AT TENERIFE ISLAND 2011" on DVD.
A unique cooperation between TANGERINE DREAM and QUEEN guitarist BRIAN MAY.
Please get more details here:
https://www.ssl-id.de/edgarfroese.de/shop/products.php?p=a6fe22
Release date: 02 Sep, Shipment: 5 Sep 2016
02. CONCERTS IN SEPTEMBER 2016
Please remember TANGERINE DREAM's following concert dates:
03 September 2016, SATURDAY: SCHWINGUNGEN FESTIVAL, Germany (close to the airport Cologne/Bonn), 9:30h, Tickets:
http://www.schwingungen-festival.de/programm/tangerine-dream/
Tickets in English language:
http://bit.ly/2bBsrAT
08 September 2016, THURSDAY: AUGUSTA RAURICA (amphitheatre in an old Roman village), Augst, Switzerland (close to Zurich/Basel), 8 pm, Tickets:
http://www.z-7.ch/event.php?eventid=1219
Tickets in English language:
http://bit.ly/2beqx7A
Support act: FREDERIC ROBINSON
TANGERINE DREAM's second and third official concerts continuing the aera of THE QUANTUM YEARS - in honour of Edgar!
PS: We are planning a bigger tour for next year! As soon as this concert project gets more concrete we will of course inform you!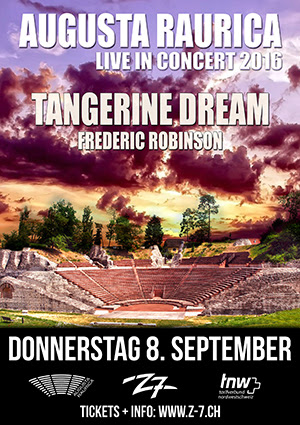 03. ARTE TV BROADCASTING TD DOCUMENTARY IN NOVEMBER 2016
ARTE TV informed us that they will broadcast the Tangerine Dream documentary by mid November. This film (60 min) was realized by German director MARGARETE KREUZER in cooperation with ARTE, RBB, TAG/TRAUM film production and EASTGATE MUSIC & ARTS. Edgar still witnessed the beginning of the film shooting and he and Bianca (his wife) had many meetings with Margarete before discussing details. We think that this film is a good - but too short - historical document of TD's musical activities within a revolutionary time. The successful crowdfunding campaign we started earlier this year will give us the possibility to produce a documentary of the band of 90 min. Hopefully this second project will be released in spring next year. At this point once again a big thank you to all those who contributed to this additional film project!
Of course we will inform you on the precise ARTE broadcast date soon.
"TANGERINE DREAM - SOUNDS FROM ANOTHER WORLD"
Edgar Froese: "Tangerine Dream" is Science Fiction! // a film by Margarete Kreuzer
04. AUTOBIOGRAPHY "FORCE MAJEURE" AND "TANGAUDIMAX" MUSEUM'S PROJECT
Both projects are in progress, we are working continually on them. We hope that the autobio can be released in late autumn, but it mainly depends on the clearing of some certain rights in connection
with this book and how fast this will go. So we still have to be a bit more patient with regard to a precise release date, but no doubt, the book will definitely be released.
Once again for all those who don't want to wait any longer, you will be refunded immediately, just send an email to
eastgate@gmx.com
. But please keep in mind that the pre-sale offered
a reduced pre-release price. After releasing the book the final sales price will be higher. Cordial thanks to you, folks, for supporting this book project with your pre-sale order!
Bianca's TANGAUDIMAX museum's project for Tangerine Dream and her husband Edgar is progressing, a great museum's concept for the band and their historical and revolutionary career has been developed.
In due course we will present you this concept which shall be realised in the German capital Berlin.
If you like to support the TANGAUDIMAX, you can do it simply with purchasing in our EASTGATE shop - 20 % of the income will directly be invested into the museum's project. Every sponsor will be named in the future museum.
Please click here for more details:
www.tangaudimax.com